↑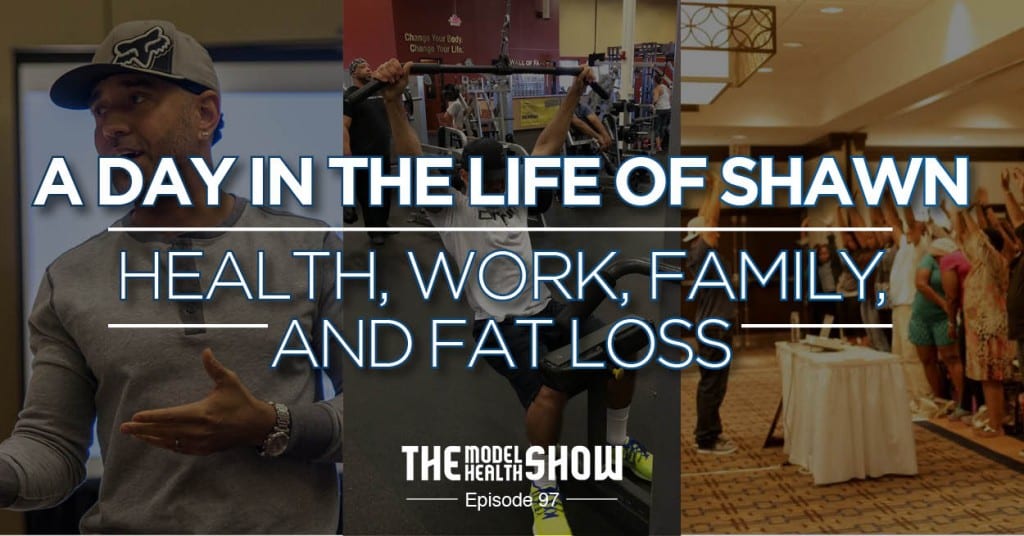 TMHS 097: A Day In The Life Of Shawn – Health, Work, Family, And Fat Loss
There is a wonderful quote that says, "People will judge you by your actions, not your intentions. You may have a heart of gold — but so does a hard-boiled egg."
It's the things that we do, not our wishful thinking, that makes the biggest difference in the lives of those around us and the world at large. This motivated me to take you into my world and show you what I do, step-by-step, on a daily basis.
In this powerful episode, I'll take you through my morning routine, my work week, and even a tour of how my exercise and nutrition are mapped out during the day.
One of the biggest things you'll discover is that, for my work week, I do something called "chunking" to super-charge my focus, keep my energy high, and get more done in a day than most people get done in a week.
To give you a quick example, there was a time when I would be working from 8am to 8 pm going from writing an important article, to seeing a few clients, to giving a presentation somewhere, to writing some more later in the day. All the while trying to maintain my nutrition and exercise habits.
It was a stressful time to say the least.
I constantly had to shift gears in my mind to be in an optimal place for many different things. I could do it. But I definitely could have done things better.
Today, because I've made the decision to cut away a lot of the clutter and "chuck" my time into specific things on specific days, I'm able to "get in the zone" on a consistent, daily basis and accomplish much more than I ever have before.
Time for work, creating, teaching, exercise, family time, and even my favorite activities are all done with ease and grace. You're about to learn how I do it, plus the powerful daily rituals I use to set the template for it all.
In this episode you'll discover:
How creating certain habits can make it difficult to get out of shape.
Why habits generally have a negative connotation.
What time I start my day (and how it relates to my kids and being of service to the world).
Why it's important to take an "inner bath" each morning.
When to take your probiotics (the best time of day and why).
How to ensure that you're regularly eliminating wastes from your body.
Why meditation is so valuable.
What my meditation practice consists of.
Why so many people struggle to breathe properly and simple breathing exercises you can use.
How your facial expression can change your mood.
The real value that visualization has on your life.
Why exercising in the morning can help you sleep better at night.
What the benefits of contrast showers are (this is super valuable!)
What the best breakfast for fat loss and energy is.
Why "sleeping in" can cause problems with your energy and motivation.
How to optimize things with your pre- and post-workout nutrition.
Items mentioned in this episode include:
Thank you so much for checking out this episode of The Model Health Show. If you haven't done so already, please take a minute and leave a quick rating and review of the show on Apple Podcast by clicking on the link below. It will help us to keep delivering life-changing information for you every week!
Get the Free Checklist: "5 Keys That Could Radically Improve Your Energy Levels and Quality of Life"
HEALTHY MEALS EVERYONE WILL LOVE
The Greatest Gift You Can Give Your Family is Health
When you gather your family around the table to share nutritious food, you're not only spending quality time with them - you're setting them up for success in all areas of their lives.
The Eat Smarter Family Cookbook is filled with 100 delicious recipes, plus the latest science to support the mental, physical and social health of your loved ones.