↑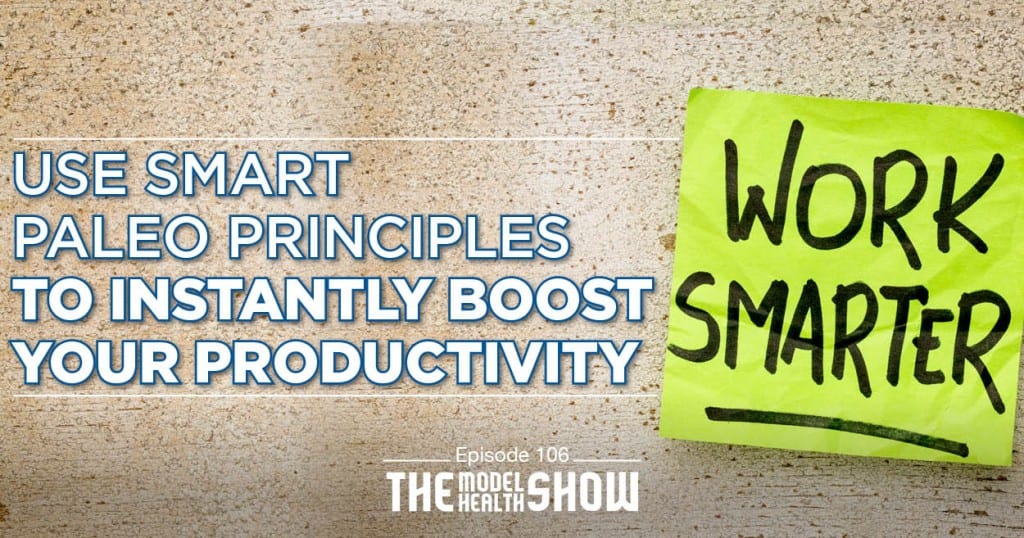 TMHS 106: Use Smart Paleo Principles To Instantly Boost Your Productivity
Peter Block said, "Why do anything if it is not going to be great?" Each and every day, many of us wake up, going through the motions, and have unknowingly selected a life of mediocrity.
Getting to (and through) the things we want in our life is a product of knowing how to manage ourselves. It's not about managing time. Time is just going to happen… You can't do anything about time. You can't "manage" it. But, what you can do is manage yourself, and by doing so you'll get more done than you ever thought possible.
That's what this episode is all about.
If you want a great life, you're going to need to accomplish more than you are right now. It's the nature of the world we live in. Getting things done, being productive, it's the language of success in the environment we are a part of.
Though we are living in new times, it's actually the past where you'll find the greatest tools to utilize your mind, body, and energy to achieve more than you ever have.
Your paleolithic ancestors had a few things mastered that we have appeared to lose sight of. Your brain, even though it can operate a smart phone at the speed of light, is not much different (if at all) than your paleo relatives. Some of the most powerful things you're about to learn are how to leverage the way your brain is actually wired up, how to put successful activities on automatic, and how to eliminate the distractions that trip so many of us up.
After listening, remember that you can get access to the video and slides from this episode, plus my productivity checklist right here. This episode was inspired by my recent presentation at Paleo f(x), so I hope you enjoy it and takeaway lots of value to create better days and a better life from this day forward.
In this episode you'll discover:
Why being highly productive is so difficult in our world today.
The #1 thing you need to do starting RIGHT NOW to radically increase your productivity.
Why specialization was once critical to the survival of humanity.
How myelin in your brain works to make you more or less efficient.
The shocking truth about multitasking.
How to utilize chunking to improve the way your brain works to get more done.
How to get more done in your day by working LESS.
What practice great athletes to great surgeons use to improve their results.
How repetition actually works to strengthen your brain.
Why rest and recreation is so important to productivity.
What major differences in stress our ancestors had from what we experience today (this is powerful!)
What one of the core causes of anxiety is.
What your overall stress load consists of.
How to decrease your stress hormones by 20 percent in less than two minutes.
How to make your work look and feel more like play.
Why sleep is such a huge determinant of your productivity.
Why you might want to reconsider breakfast if you want to perform at a higher level.
4 tips to help you get the most out of intermittent fasting.
Items mentioned in this episode include:
Get the Free Checklist: "5 Keys That Could Radically Improve Your Energy Levels and Quality of Life"
HEALTHY MEALS EVERYONE WILL LOVE
The Greatest Gift You Can Give Your Family is Health
When you gather your family around the table to share nutritious food, you're not only spending quality time with them - you're setting them up for success in all areas of their lives.
The Eat Smarter Family Cookbook is filled with 100 delicious recipes, plus the latest science to support the mental, physical and social health of your loved ones.