↑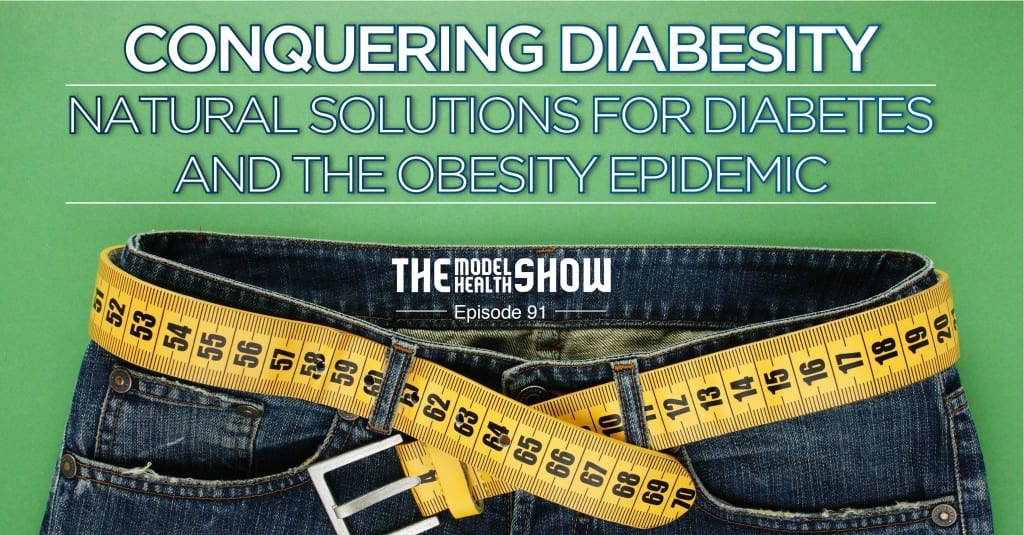 TMHS 91: Conquering Diabesity – Natural Solutions For Diabetes & The Obesity Epidemic
A new term has been coined to demonstrate the parallel line between diabetes and obesity. Diabesity is the realization that diabetes and obesity go together like peanut butter and jelly, like spaghetti and meatballs, or like Doritos and chili cheese dogs (if you grew up like I did).
The real underlying issue is that obesity and being dangerously overweight has become a societal norm. You will be shocked and a little disturbed when you find out what the statistics are today. But, more so, you're going to be driven like never before to not have your name listed in the ranks of people who are stricken with diabesity.
This condition has become a societal norm because, as Dr. Francine Kaufman says, "Our ancient genes and our modern environment have collided." You can not go more than a couple miles in this country and not see a chain of fast food restaurants, we are bombarded by chemicals in our food, water, and air supply, and we are more overworked and under-rested than at any other point in human history. What we are seeing now is a result of our collective decisions, but this can all change starting now.
Today you're going to learn the ins and outs of how diabetes is created, how it's reversed, and how to prevent it from happening in the first place. You're also going to learn EXACTLY how body fat gets created in a way that you've never heard before. In particular, we're going to focus on that especially troublesome fat that accumulates in the midsection, so that you can finally take control of the Battle of the Bulge.
Plus, a little bonus with today's episode. To celebrate surpassing over 1 million downloads, I'm giving away several gift packs of Onnit foods and supplements. All you have to do to enter yourself is 1) Follow me on Instagram right here and 2) Tag me in a photo of where you're listening to the show. I'll be selecting a few winners all this week!
We've got so many powerful and exciting episodes coming up for you. It kicks off today with this masterclass on reversing diabetes, eradicating obesity, and taking back control of your health.
In this episode you'll discover:
What diabesity is and where it originated.
What the symptoms of diabesity are (you can look down now and see if you have it!)
How the rates of diabetes have changed in the last 100+ years (this will shock you!)
What blood test you want to get when monitoring systemic inflammation and potential blood sugar problems.
How diabetes is actually created (the step-by-step process – this is powerful!)
What insulin really is and how it works.
The specific tissues that are most responsive to insulin (this can mean life or death…)
Why storing unwanted fat is actually a very healthy response of your body.
The surprising impact that whole grains have on your blood sugar.
How your amazing liver assists in managing healthy blood sugar levels.
What the different types of body fat are and how they work.
Why women and men store fat differently.
How genetics relates to diabetes and obesity (the good, bad, and the ugly!)
Why statin drugs increase diabetes risk.
The 8 steps to completely reverse diabetes and obesity-related symptoms.
What category of foods will help your leptin sensitivity and control your appetite.
Why exercise can NEVER compete with your diet.
How you can use exercise to treat diabetes (it's a compliment, not a cure!)
What supplements are effective in treating diabetes naturally.
How stress can lead to diabetes and what to do about it (you need to know this!)
Why optimizing your sleep can help you successfully prevent and treat diabetes.
Items mentioned in this episode include:
Thank you so much for checking out this episode of The Model Health Show. If you haven't done so already, please take a minute and leave a quick rating and review of the show on Apple Podcast by clicking on the link below. It will help us to keep delivering life-changing information for you every week!
Get the Free Checklist: "5 Keys That Could Radically Improve Your Energy Levels and Quality of Life"
WANT TO MAKE A BIGGER IMPACT ON THE WORLD?
Take Your Passion For Health And Wellness And Turn It Into A Lucrative Career.
Helping others to transform their health is one of the most rewarding things you can do. No matter what level you're at, or where you are on your own health journey, there are countless people who can benefit from your support! Here you'll learn from the very best instructors in the world in health AND in business to create a fun, thriving career and live life on your terms.