↑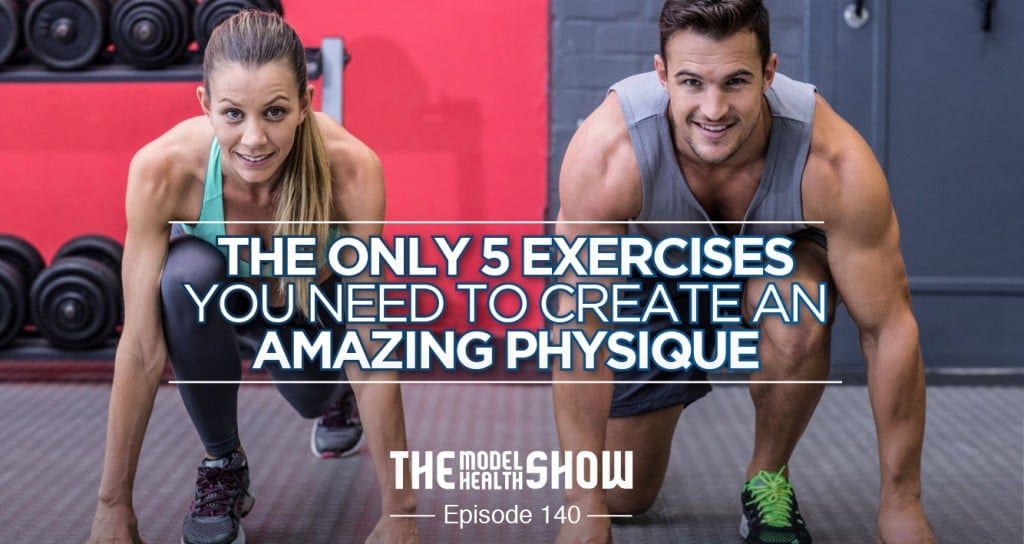 TMHS 140: The Only 5 Exercises You Need To Create An Amazing Physique
Confucius said, "Life is really simple, but we insist on making it complicated." This statement couldn't ring anymore true when it comes to changing our body's appearance. It can be one of the easiest things in the world if we simply take the complexity out of it. That's what today's show is all about.
Today we're going to dive in and talk about the only 5 exercises you need to create an amazing physique. No fancy cardio machines with a lot of buttons, no complex programs, and no excuses. By mastering these 5 things you can create the most incredible physique possible. But the real benefit is in the details. You'll learn some of the big do's and don'ts, why they actually work (the science), and specific benchmarks you need to target to make sure you're getting the most out of them. Take actions to focus more on these 5 exercises and the results will speak for themselves.
In this episode you'll discover:
Why omega 3's are so important for our health (and the best source to find them!).
Why mastering bodyweight exercises is so valuable in our lives.
The only 5 exercises you need to create an amazing physique.
How performing a proper squat translates into so many other areas of life.
What 1 to 2 minute health practice you need to start incorporating on a daily basis.
How squats impact testosterone and others hormone levels.
Smart ways to improve the effectiveness of your squats.
What exercise incorporates more of your muscles than any other movement.
How reciprocal inhibition can be destroying your progress.
Which surprising exercise can targets your abs and benefit your hormones.
What progression exercises are and why they're important.
What the little known benefits of push ups are.
How to breakthrough to your first pull ups and far beyond.
What the 3 functional patterns for your legs are.
What fitness benchmarks you need to hit with these 5 essential exercises.
Items mentioned in this episode include:
Thank you so much for checking out this episode of The Model Health Show. If you haven't done so already, please take a minute and leave a quick rating and review of the show on Apple Podcast by clicking on the link below. It will help us to keep delivering life-changing information for you every week!
Get the Free Checklist: "5 Keys That Could Radically Improve Your Energy Levels and Quality of Life"
HEALTHY MEALS EVERYONE WILL LOVE
The Greatest Gift You Can Give Your Family is Health
When you gather your family around the table to share nutritious food, you're not only spending quality time with them - you're setting them up for success in all areas of their lives.
The Eat Smarter Family Cookbook is filled with 100 delicious recipes, plus the latest science to support the mental, physical and social health of your loved ones.