↑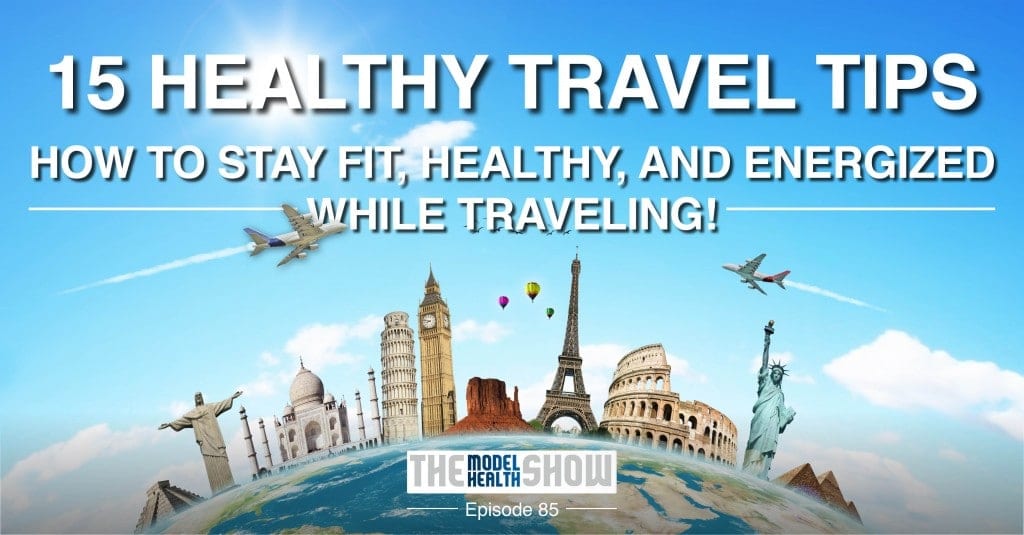 TMHS 85: 15 Healthy Travel Tips – How to Stay Fit, Healthy & Energized While Traveling
Traveling can be a sticky health situation. Airports, restaurants, hotels, hopping around from place-to-place, and long periods of being cooped up in a car or airplane can all have different challenges associated with them.
Today, you're about to be equipped with the ultimate travel guide to maintain your health, fitness, and energy while traveling. What's the point of traveling and enjoying yourself if you come back tired, sick, depressed, or mad at yourself because you've put on a few pounds?
How about you come back with energy, recharged, and ready to take on your life with a renewed intensity!
The information and strategies you're about to learn will become a part of your life for many years to come. You'll actually be surprised at how easy it is to maintain your health (and make it even better!) with these healthy travel tips in your possession.
Use these wisely, have fun, and bring me back a souvenir. 🙂
In this episode you'll discover:
What small strategies to implement BEFORE you travel to ensure you're eating healthy.
How to boost your immune system so that you don't get sick while traveling.
What cells in your body act as a "surveillance system".
How certain medicinal mushrooms act as "immunomodulators" (this is powerful!).
What happens to your food while you're chewing it (and how it relates to Maury Povich).
Where you can find the #1 source of antioxidants of any known food.
Where to find the #1 source of vitamin C and WHEN you should use it.
What superfoods can help you combat radiation.
What unexpected item to pack in your suitcase to handle breakfast and keep your energy up.
Surprising items you can get from a hotel if you just ask.
How to ensure that you're optimally hydrated when you're traveling via airplane.
How to handle your meals on short flights versus long flights.
What hacks you can use to keep your body mobile and "organized" while flying.
A simple tip to help you avoid the symptoms of jet lag.
Why sleep deprivation can be the #1 cause of illness while traveling.
Items mentioned in this episode include:
Thank you so much for checking out this episode of The Model Health Show. If you haven't done so already, please take a minute and leave a quick rating and review of the show on Apple Podcast by clicking on the link below. It will help us to keep delivering life-changing information for you every week!
Get the Free Checklist: "5 Keys That Could Radically Improve Your Energy Levels and Quality of Life"
WANT TO MAKE A BIGGER IMPACT ON THE WORLD?
Take Your Passion For Health And Wellness And Turn It Into A Lucrative Career.
Helping others to transform their health is one of the most rewarding things you can do. No matter what level you're at, or where you are on your own health journey, there are countless people who can benefit from your support! Here you'll learn from the very best instructors in the world in health AND in business to create a fun, thriving career and live life on your terms.