↑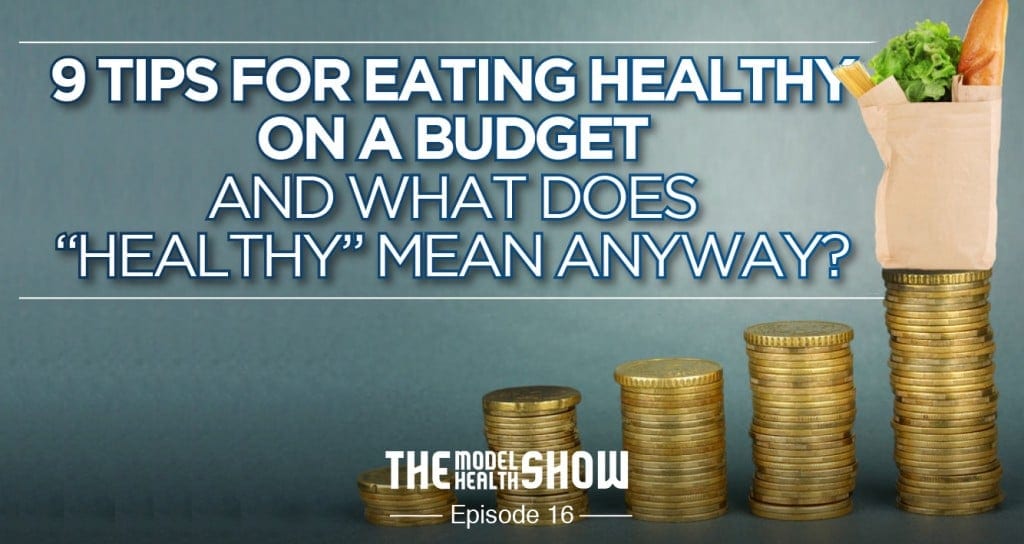 TMHS 16: 9 Tips for Eating Healthy on a Budget & What Does "Healthy" Mean Anyway?
In this episode of The Model Health Show I'm sharing specific tips and strategies to eat healthy without breaking the bank. Shopping for healthier alternatives is becoming a huge priority for families today. In this episode you're going to learn 9 specific tips to help you shop for and prepare healthy meals while maintaining a smart food budget.
Now, what does eating healthy actually mean? And why does eating healthy seem to be more expensive? We're covering the answers to these important questions too, so this is a perfect episode to share with people that are just getting started with a healthier lifestyle.
Eating healthy is the #1 health insurance for your family. By utilizing these specific tips today, you'll be able to provide your family with the best food possible, protect them from preventable diseases, and shape their health and habits for a lifetime.
In this episode you'll discover:
What organic really means, and if it's even important.
The other healthy "categories" of foods other than organic.
How pesticides and insecticides impact your body.
How "government food standards" can be misleading.
The truth about conventionally raised animal foods.
Whether margarine is better than butter.
What happens to your food if it's not grown locally.
How scheduling impacts your food costs.
Important tips for buying in bulk.
What you need to know about buying frozen foods.
The truth about vegetable & fruit washes to remove pesticides.
Why your investment in your food is so important.
The hidden benefits of Farmer's Markets.
How to find and use more coupons.
What "filler foods" are ideal if you have a big family.
What's better: Brown rice or white rice?
How to make your foods keep you fuller, longer.
Thank you so much for checking out this episode of The Model Health Show. If you haven't done so already, please take a minute and leave a quick rating and review of the show on Apple Podcast by clicking on the link below. It will help us to keep delivering life-changing information for you every week!
Get the Free Checklist: "5 Keys That Could Radically Improve Your Energy Levels and Quality of Life"
WANT TO MAKE A BIGGER IMPACT ON THE WORLD?
Take Your Passion For Health And Wellness And Turn It Into A Lucrative Career.
Helping others to transform their health is one of the most rewarding things you can do. No matter what level you're at, or where you are on your own health journey, there are countless people who can benefit from your support! Here you'll learn from the very best instructors in the world in health AND in business to create a fun, thriving career and live life on your terms.