↑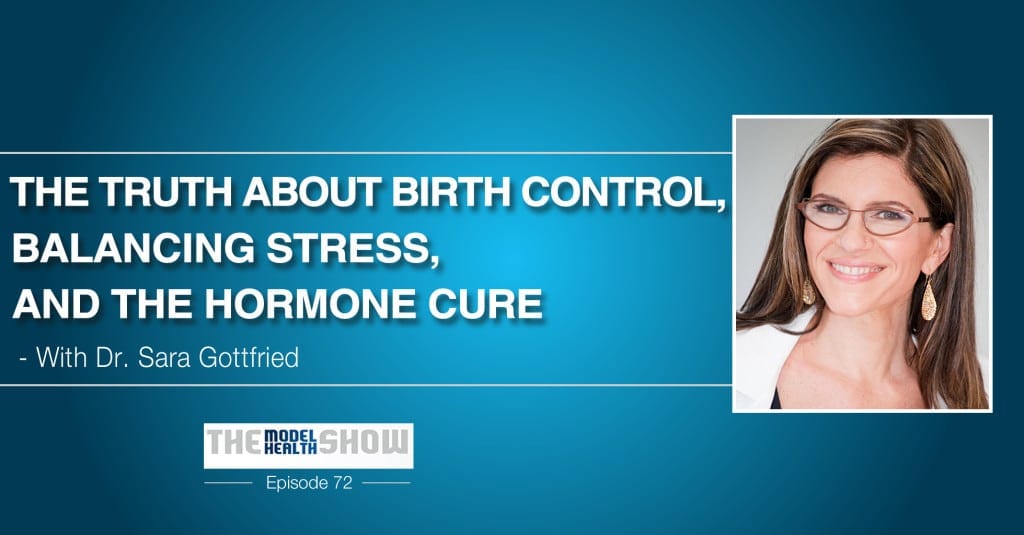 TMHS 72: The Truth About Birth Control, Balancing Stress & The Hormone Cure with Dr. Sara Gottfried
Hormones are everywhere. They are in and around us. They give us life. They generate communication between every cell in our body. They are essential in creating order… and they can also create some pretty epic chaos if we're not careful.
Much like a misinterpreted communication between people, abnormal hormone function can cause your body to "fight" within itself. Now, I don't know about you, but I subscribe to a low drama diet, and I'd much rather have a civil environment within my body.
I don't want hormonal back-slaps happening. I want to feel good. I want to feel empowered and healthy, and understanding the role of hormones is the ultimate key to having this manifest in my life.
So the question is: How do hormones get out of balance, and what are the things we need to know to get them back on track?
There is no better person on the planet to answer these questions than Dr. Sara Gottfried.
This brilliant Harvard/MIT-trained physician is a superstar when it comes to helping you identify your hormonal issues and helping you create a strategy to fix them.
What really impresses me about Dr. Gottfried is the wide range of options that she brings to the table. No cookie-cutter hormone tricks here. She knows well that we all have cookies of many different shapes and sizes 🙂
As a matter of fact, the shape and size of our own cookie can change from time-to-time. One day we can be a nice gluten-free angel shaped cookie, and the next day we can be a full-on monster cookie with green frosting and extra gluten sprinkled on top.
Helping you to navigate this hormonal terrain is what her work is all about. You're about to uncover just how powerful hormones are, and how to stack the conditions in your favor to have the health you really deserve.
In this episode she says some absolutely profound things that will likely stay with you for the rest of your life. The amazing part about it is that she makes it simple. She doesn't over complicate things to sound like a genius (although she is), instead she breaks things down to the real world level that we all live in, and provides solutions that we can all apply to live a healthier, happier life.
This show is loaded with powerful gems, so I recommend you take good notes, or after listening you can grab the free transcript right here and highlight your favorite parts. Now, let's get to it. Viva la hormones!
In this episode you'll discover:
How The Hormone Cure was created out of Sara's own quiet desperation (that so many women are going through).
What hormones are and what they do in your body.
How hormones impact calories.
What 3 hormones determine women's health and men's health the most.
What parts of your brain influence your production of cortisol.
How we can manufacture stress even when we're not in danger.
Why high cortisol production comes at the expense of other important hormones.
How to identify some of the key symptoms of cortisol and thyroid problems.
The shocking percentage of people with estrogen dominance and what it causes.
Why having a hormone panel done is not always the best method for diagnosis.
What incredible resource you can use to uncover hormone imbalances.
What effective supplement for reducing high cortisol you can find at most health food stores.
How to naturally reverse depression by utilizing the "girlfriend" factor.
How your sleep impacts your hormones (and why you might be "tired and wired").
Why you need to fill your thyroid "nutrient gaps".
How to safely detoxify your thyroid and other organs.
How sex influences symptoms of estrogen dominance.
What 2 powerful supplements can help to reverse estrogen dominance.
What circadian congruence is and why it's critical for your health.
Why the birth control pill can be devastating for your hormones.
Natural birth control methods that are far safer than birth control pills.
What tends to cause PMS and what to do about it (these tips are life-changing!)
How men's testosterone can get "stolen" and how to stop this from happening.
Items mentioned in this episode include:
Get the Free Checklist: "5 Keys That Could Radically Improve Your Energy Levels and Quality of Life"
WANT TO MAKE A BIGGER IMPACT ON THE WORLD?
Take Your Passion For Health And Wellness And Turn It Into A Lucrative Career.
Helping others to transform their health is one of the most rewarding things you can do. No matter what level you're at, or where you are on your own health journey, there are countless people who can benefit from your support! Here you'll learn from the very best instructors in the world in health AND in business to create a fun, thriving career and live life on your terms.