↑ TMHS 051: The Answer To Cancer – With Bestselling Author Ty Bollinger
I recently gave a short presentation in front of a group of over 7,000 people. They were all there as cancer survivors, or the loved ones of those who've survived or who have lost their fight. This event really sparked something in me. To witness a sea of people all coming together for one purpose, but to not know what the cause of this disease is really broke my heart.
Honestly, I have spoken for audiences big and small; high pressure situations and euphoric situations alike. None of those instances phased me much. But this event made it difficult for me to speak.
I wanted to yell, and scream that this doesn't have to happen! I wanted to take each person by the hand, sit them down, and talk about how we can end this struggle, and make a better life for our future generations. Instead, I had just a few minutes to give them some hope… And to give them something valuable to walk away with to better the chances in their fight.
Well, I know that fighting is not the road to take. It's bigger than a fight. It's something more courageous. It's having the audacity to love yourself enough that you will pay unyielding attention to yourself. You will finally pay attention to your body, pay attention to the nutrition it requires; the movement it requires; the rest it requires; and the appreciation it requires to make you the best you possible.
In this episode you're going to hear from bestselling author Ty Bollinger about how we can make this happen. You're going to learn how we can take our power back as free, sovereign individuals to live a life that's worthy of us.
You don't have to be afraid of cancer. This episode will prove it to you. Cancer doesn't have to be the end of your story. As a matter of fact, there are countless people who've eliminated cancer from their body through what Ty is sharing that will tell you it was actually the beginning of their story. Including Kristy, whose scans are below showing what's possible in as little as one month. Enjoy this episode and share it generously!
In this episode you'll discover:
3 things to address immediately if conventional physicians give you a cancer diagnosis.
How the nocebo effect can take your life faster than cancer will.
The story of Kristy, the young mother of 3 who was diagnosed with breast cancer (see her scans below.)
How the function of your internal organs impacts cancer development.
What 3 specific phases I use to assist many cancer patients.
What storied medicinal mushroom can incite programmed cell death in cancer cells.
How chemotherapy affects human health long-term (the truth).
How sugar fuels cancer cells.
The shocking survival rate for people treated with chemotherapy (this long-term study reveals it all!)
What form of cancer treatment is shown to be 93 percent effective at the one-year mark.
Why pancreatic cancer is so aggressive (and how to stop it.)
Why cancer doesn't just "happen" and what actually triggers cancer cell development.
What leading breast cancer treatment is now classified as a Class A carcinogen.
The must-see study showing how GMO foods are heavily linked to cancer.
Items mentioned in this episode include: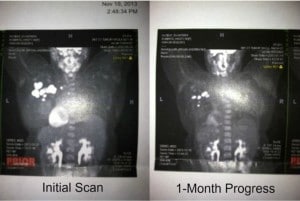 Thank you so much for checking out this episode of The Model Health Show. If you haven't done so already, please take a minute and leave a quick rating and review of the show on Apple Podcast by clicking on the link below. It will help us to keep delivering life-changing information for you every week!
Get the Free Checklist: "5 Keys That Could Radically Improve Your Energy Levels and Quality of Life"
HEALTHY MEALS EVERYONE WILL LOVE
The Greatest Gift You Can Give Your Family is Health
When you gather your family around the table to share nutritious food, you're not only spending quality time with them - you're setting them up for success in all areas of their lives.
The Eat Smarter Family Cookbook is filled with 100 delicious recipes, plus the latest science to support the mental, physical and social health of your loved ones.