↑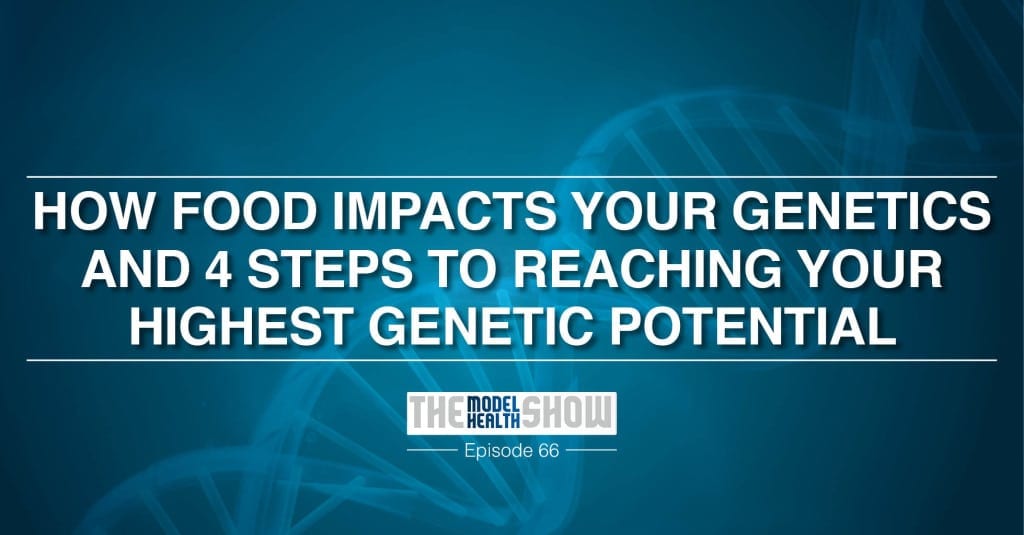 TMHS 66: How Food Impacts Your Genetics & 4 Steps to Reaching Your Highest Genetic Potential
I remember R&B artist Genuwine had a hit song called "In Those Jeans" a few years back. Though the spelling is different from the genes we're talking about here today, the objective is still the same. Let me explain…
The song is about getting in the jeans of the hottest person possible. Sexually charged: Yes. Unintentionally scientific: You better believe it.
We all want to get in the genes of our most vibrant, healthy and attractive self. Understanding that you do, in fact, have the power to change your genetic expression is one of the most important discoveries you'll ever make.
Our society has been indoctrinated with this idea that your genes control everything about you. Your genes are the governing entity that will determine your health and longevity, and even control your success in life to a large extent. This is called genetic determinism, but it's really the best free pass ever to give up on yourself.
Overweight: Can't control it, it's my genes.
Diabetic: Can't control it, it's my genes.
Cancer: Can't control it, it's my genes.
Depressed: Can't control it, it's my genes.
Issue after issue, conventional science has been advocating that there is a gene that controls it and makes it inevitable in your life. The reality is that this is simply not true…
One of the most rapidly growing divisions of science is a field called epigenetics. Epi- (like epi-dermis) means above, so this area of science is focused on what's above genetic control. Now if genes control our life, how could something be above it?
The answer is that the public hasn't been given the full story, but that's all about to change for you today.
Your genes are literally a blueprint. They have the instructions to make things, but they don't actually make things themselves. Just as if you were to ask an architect, "What is that house blueprint doing?" First of all, he will look at you like you're a few sandwiches short of a picnic, secondly he would tell you that the blueprint isn't doing anything. It doesn't do anything unless it gets read, and then WE decide if we're going to use it.
The point to really take away from this is that your lifestyle, your habitual behaviors, and your choices in life, more than any other thing, determine what your genes are doing. As you'll learn today, even a lack of sleep can disrupt the expression of over a thousand genes. And this is just a slice of the pie…
How do our food, our exercise, and our relationships impact our genetic expression? You're about to learn how all of these things you're engaged in are actually creating your body and life. Not your genes by themselves, but with you in the driver's seat.
In the song Genuwine asks, "Is there any more room for me (in those jeans)?" You're about to learn that there's plenty of room in your genes for variation. You get to control, to a large extent, whether you spend your time trying to get into the wrong genes, or you become empowered and get into the hottest genes possible. Enjoy this, share, and remember how powerful you are!
In this episode you'll discover:
What the most bioavailable source of protein for the human body is (a must know!)
What genes actually are and what they do.
The shocking number of genes human beings really have (this it mind blowing!)
The truth about how many people actually have genetic defects.
What epigenetics are and why this is a MUST for you to know about.
The growing fields of science showing how food impacts your genetic expression.
How your parents impact your genetic expression (and what you need to do now).
Why conscious parenting is critical in human evolution.
4 steps to turning on better genetic programs and become "unstuck" in your body.
How fasting impacts your genetic expression.
2 ways to utilize fasting to positively influence your genes.
How to do an intermittent fast (and what intermittent fasting really is).
The real reason you need to eat organic food (this is funny, but true.)
A wild food that is easily accessible to you (probably in your backyard!)
Why humans have allowed the use of genetically modified foods.
What the top 10 genetically modified foods are.
What common food has been genetically altered to be a vaccine.
How movement impacts your genetic expression.
A fun hack you can use while walking to upgrade your genetics.
Why health problems are far more common among night workers.
How poor sleep quality can dramatically disrupt your natural gene expression.
Items mentioned in this episode include:
Get the Free Checklist: "5 Keys That Could Radically Improve Your Energy Levels and Quality of Life"
HEALTHY MEALS EVERYONE WILL LOVE
The Greatest Gift You Can Give Your Family is Health
When you gather your family around the table to share nutritious food, you're not only spending quality time with them - you're setting them up for success in all areas of their lives.
The Eat Smarter Family Cookbook is filled with 100 delicious recipes, plus the latest science to support the mental, physical and social health of your loved ones.