↑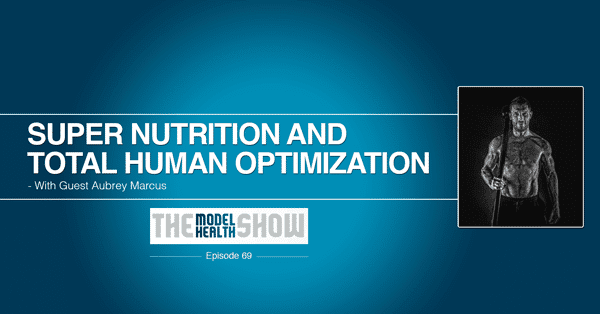 TMHS 069: Super Nutrition And Total Human Optimization – With Aubrey Marcus
If we're going to be successful in the field of nutrition, then we've got to come to the realization that EVERYTHING you put into your body has an impact.
Whether you're eating a walnut or a doughnut, it will change every cell in your body at some level. Food is truly that powerful.
It's time we start to leverage this to look and feel the way that we want. I often tell people that food isn't just food, it's information. And we need to start asking questions like: What kind of information am I putting into my body?
Before you make a decision to eat a food, take a supplement, or take a drug, just take a second and contemplate what this substance is commanding your body to do. Are you making a food choice that is commanding your body to secrete more insulin than it can handle, store more fat, and damage your metabolism? You can literally command your body to do this with a bottle of Mountain Dew.
Are you taking a synthetic supplement that will overstimulate your nervous system and make you think that you have more energy… when you're really just burning out your adrenal glands?
We have to take more responsibility for what we are putting into our bodies so that we can rise above the disease, poor performance, and struggle that has become commonplace in our society.
Knowing all of this, it's not a small thing to take a supplement. You'd better know what's in that supplement, where it comes from, and whether or not the human body even recognizes it in the first place.
Today we've got on the CEO of a company that is focused on what they call Total Human Optimization. Everyone from professional athletes to top executives are rushing to get their hands on the products and information that this company has put together.
Onnit is a brand that's making huge waves in the fitness and nutrition industry by standing for something unique. It's not just about the incredible supplements they carry (that are actually derived from earth grown nutrients), it's about the food you eat, it's about the exercise you do, and it's about the lifestyle you take on to bring it all together and make it work.
The CEO of Onnit, Aubrey Marcus, cares about people, cares about service, and cares about making a real impact. He's a leader that really walks his talk, and he's about to share a wealth of information with you that can improve your life for many years to come.
In this episode you'll discover:
How to turn the knowledge you acquire into real change in your life.
What influenced Aubrey to begin taking supplements (great story about a napkin!)
Why athletes like A.J. Hawk from the Green Bay Packers are using Onnit products (this will surprise you!)
Why earth-grown nutrients need to be the basis of all high quality supplements.
How taking synthetic supplements can work in the short-term but cost you in the long-term.
What compounds in hemp protein make it so interactive with human muscle.
Why hemp was paramount to the growth of the U.S. then eventually banned due to corporate interest.
Whether or not hemp protein will cause you to fail a drug test.
How using higher quality supplements saves you money because you use less of it.
Why radioactive wastes and heavy metals may be a concern with conventional fish oil.
Where to find a safer, more effective source of Omega 3's.
How cordyceps impacts your cells to give you more energy.
What an adaptogen is and why we need them.
How our society has been trained to fear dietary fat.
Why dietary fat is CRITICAL to your nervous system function (you'll love this analogy!)
What Trilogy Butter is and why I eat it out of the jar like a madman.
Why the human body is not designed to only do linear movements (squats are great but…)
Why service, not money, is the key to success in the long-term.
Items mentioned in this episode include:
Onnit.com/Model <== Get your optimal health & performance supplements at 10% off!
Thank you so much for checking out this episode of The Model Health Show. If you haven't done so already, please take a minute and leave a quick rating and review of the show on Apple Podcast by clicking on the link below. It will help us to keep delivering life-changing information for you every week!
Get the Free Checklist: "5 Keys That Could Radically Improve Your Energy Levels and Quality of Life"
WANT TO MAKE A BIGGER IMPACT ON THE WORLD?
Take Your Passion For Health And Wellness And Turn It Into A Lucrative Career.
Helping others to transform their health is one of the most rewarding things you can do. No matter what level you're at, or where you are on your own health journey, there are countless people who can benefit from your support! Here you'll learn from the very best instructors in the world in health AND in business to create a fun, thriving career and live life on your terms.