↑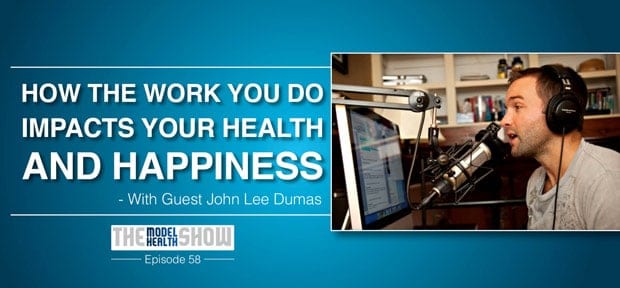 TMHS 58: How the Work You Do Impacts Your Health & Happiness with John Lee Dumas
Health is much bigger than finding a diet and exercise program that work well for you. Your health is something that's always in flux… it's holistic, multi-dimensional, and far beyond a banana and some sit-ups.
One of the biggest pieces of health that's unwisely overlooked is happiness. That's right, your level of happiness has a huge impact on your health for many powerful underlying reasons. For starters, research published by the Harvard University School of Public Health shows that happiness and an overall optimistic attitude cut the risk of heart disease in half for 6,000 study participants who were tracked over a 20 year period.
Another study that included more than 3,000 people over the course of 8 years found that happier people maintained better physical health and mobility as they aged. And this is only half the story…
This same study also found that the unhappiest participants were 80 percent more likely to develop physical impairments as they aged. Unhappiness caused a sustained activation of the body's stress response system, leading to a greater likelihood of developing heart disease, systemic inflammation, and even cancer.
So if this doesn't get you to sit up and pay attention to your happiness then you must be related to Archie Bunker, Al Bundy, or Squidward from Spongebob Squarepants.
The harsh reality is: You may discover the most powerful diet and exercise in the world, but your results won't matter very much in the long run if you're not happy.
Of all things that effect people's optimism, there is one that can really make or break you in the happiness department. What you do for a living has an incredible influence on your happiness and overall vitality.
For most people, their workplace is where they spend half of their waking hours 5 days a week. People often spend more time at work and with their coworkers during the week than their own family and friends… so hopefully you can see why being happy with work is so important.
If you don't love the work you do and want a change OR if you simply want strategies to get the most out of life and love what you do even more, I've got something special for you.
I've invited an amazing guest on for you today. He's helping hundreds of thousands of people all over the world get connected to work that they're passionate about. He's providing real expertise and real strategies 7-days a week through his top-rated podcast. And today he's going to share some life-changing information to help you live a life that's truly worthy of you.
In this episode you'll discover:
What major issue (outside of diet and exercise) is damaging the health of millions today.
What valuable qualities you can learn from the military that can help you in life.
The inspiring story of why John decided to start his own business.
Why doing work that inspires you is critical to long-term success.
The real reason most people DO NOT do work that they love for a living.
How doing work you love creates a virtuous circle of taking great care of your health.
Why momentum is so powerful in success AND failure.
Why starting with small things can add up to big success.
The 1st thing to do when making any life change (the enlightened truck-driver story).
What new technology allows you to say YES to what you want without saying NO to your responsibilities.
How to drill what you learn through podcasts deeper into your mind and body.
How to use podcasts to motivate yourself to do things you would normally skip out on.
Why being selfish is one of the strange reasons that most people give up on their dreams.
Some simple (but powerful) tips to be consistent with your exercise and health.
Items mentioned in this episode include:
Get the Free Checklist: "5 Keys That Could Radically Improve Your Energy Levels and Quality of Life"
WANT TO MAKE A BIGGER IMPACT ON THE WORLD?
Take Your Passion For Health And Wellness And Turn It Into A Lucrative Career.
Helping others to transform their health is one of the most rewarding things you can do. No matter what level you're at, or where you are on your own health journey, there are countless people who can benefit from your support! Here you'll learn from the very best instructors in the world in health AND in business to create a fun, thriving career and live life on your terms.