↑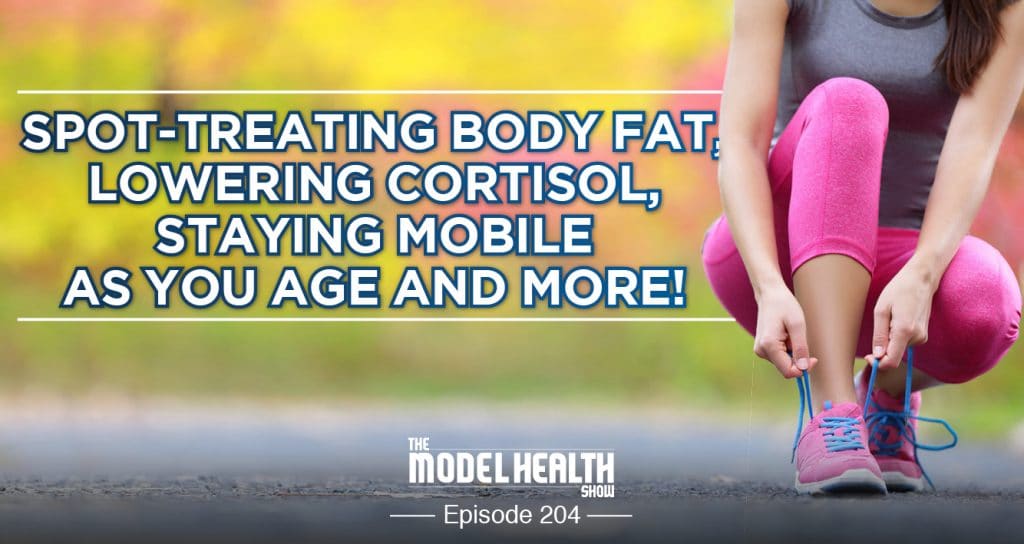 TMHS 204: Spot-Treating Body Fat, Lowering Cortisol, Staying Mobile as You Age and More!
Conventional wisdom says that your body burns fat as a whole, and that you can't "spot-eliminate" fat. Well, if conventional wisdom had a nose, it would be growing like Pinocchio's right now. In past episodes we've discussed how your body actually burns fat, how it's eliminated, and what fat even is in the first place. In this episode we're going to talk about how you can influence your body to burn more fat from specific "problem areas", plus a whole lot more.
Today we have a very special episode we recorded with listeners of The Model Health Show live in Washington D.C.! This special Q & A show delves in on topics ranging from overlooked causes of heart problems, spot-treating body fat, deciding on your career path, avoiding hip and knee replacements, quickly eliminating inflammation and that's just for starters.
I hope this episode provides you with a plethora of tools and insights that you can use for a lifetime. And a special shoutout to everyone who joined us in D.C. It was an amazing time in an awesome city. Thank you for making us feel at home!
Enjoy, and please stay tuned for more cities that I'll be traveling to for speaking events, meet & greets, and a whole lot more!
In this episode you'll discover:
Which field of science teaches how every bite of food you eat impacts your genetic expression.
The leading cause of physician visits today (this might surprise you!).
How you can target and burn fat from specific "problem areas" on your body.
A big revelation about cellulite and stretch marks.
How to better understand your body's electrical conductivity.
The impact that "grounding" has on cortisol levels.
What the #1 mineral deficiency in modern society is.
The most important questions to ask yourself when deciding a career path.
Which category of food/medicine is crucial for your immune system today.
What to do when family and friends aren't on the same page with you when it comes to improving their health.
Essential tips for health and mobility as you age.
The underlying component of any chronic health issue that's often overlooked.
How to best address the need for hip replacements, knee replacements, etc.
Why questions are able to guide our lives and decisions.
Items mentioned in this episode include:
Thank you so much for checking out this episode of The Model Health Show. If you haven't done so already, please take a minute and leave a quick rating and review of the show on Apple Podcast by clicking on the link below. It will help us to keep delivering life-changing information for you every week!
Get the Free Checklist: "5 Keys That Could Radically Improve Your Energy Levels and Quality of Life"
HEALTHY MEALS EVERYONE WILL LOVE
The Greatest Gift You Can Give Your Family is Health
When you gather your family around the table to share nutritious food, you're not only spending quality time with them - you're setting them up for success in all areas of their lives.
The Eat Smarter Family Cookbook is filled with 100 delicious recipes, plus the latest science to support the mental, physical and social health of your loved ones.