↑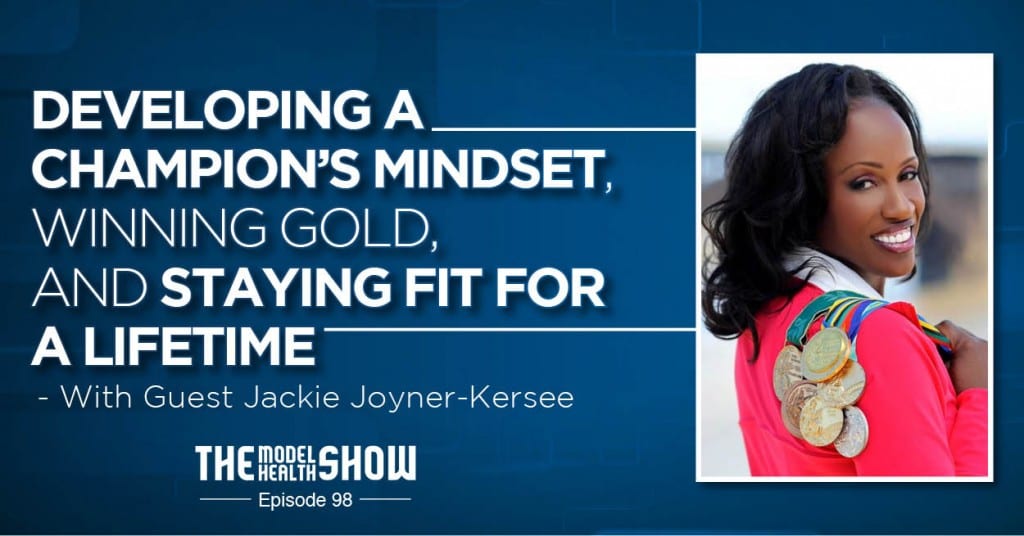 TMHS 98: Developing a Champion's Mindset, Winning Gold & Staying Fit for a Lifetime with Jackie Joyner-Kersee
There is a quote from Robert Fritz that says, "If you limit your choices only to what seems possible or reasonable, you disconnect yourself from what you truly want, and all that is left is compromise."
Most of us are living a life of compromise. We may desire deeply to get out of it, but often times we just don't know how.
Focusing on what seems "possible" for you is the most guaranteed way to live a life of mediocrity. But, if you're honest with yourself, and look deep inside your soul, you'll remember that you were destined for something much greater.
I promise you, you're never too old, or too young, to start. You are never lacking the resources to make your dreams come true. Yet, you may be lacking something else. And that's what today's show is about.
On this episode we have on gold-medal winning Olympian Jackie Joyner-Kersee. Not only was Jackie voted by Sports Illustrated (and many other publications) to be the greatest female athlete of the 20th century, but she helped shift the minds of an entire generation by the way she did it.
Jackie is, in many ways, the epitome of breaking through what seems to be possible or reasonable. Her story, as you'll learn, is ripe with difficulties, poor conditions, and often insurmountable odds.
To learn the insights from someone like Jackie is truly priceless, and a gift for us all. You're about to learn how she was able to breakthrough and tap into her potential, and (more importantly) how you'll be able to do the same thing.
In this episode you'll discover:
How one of the greatest athletes in history responded to finishing dead last in her early competitions.
Why having a good mentor doesn't mean having someone who will agree with you.
Who inspired Jackie to excel and what drove her to attend UCLA.
Why having a healthy confidence is important (but not going overboard).
Why positive self-talk is critical to high levels of success.
How you can learn valuable lessons from the failures in your life.
Why you should always shoot for a goal BEYOND what you want.
How to maintain your health and fitness as you progress in age.
Why looking at exercise as a form of punishment (like many people do) is a huge barrier to success.
A major reason people are not exercising regularly (we are calling people out!)
Some of the surprising benefits of walking.
Why resourcefulness is far more valuable than having certain resources.
How storytelling can help to motivate and transform the lives of so many people.
Items mentioned in this episode include:
Onnit.com/Model <== Get your optimal health & performance supplements at 10% off!
Get the Free Checklist: "5 Keys That Could Radically Improve Your Energy Levels and Quality of Life"
HEALTHY MEALS EVERYONE WILL LOVE
The Greatest Gift You Can Give Your Family is Health
When you gather your family around the table to share nutritious food, you're not only spending quality time with them - you're setting them up for success in all areas of their lives.
The Eat Smarter Family Cookbook is filled with 100 delicious recipes, plus the latest science to support the mental, physical and social health of your loved ones.