↑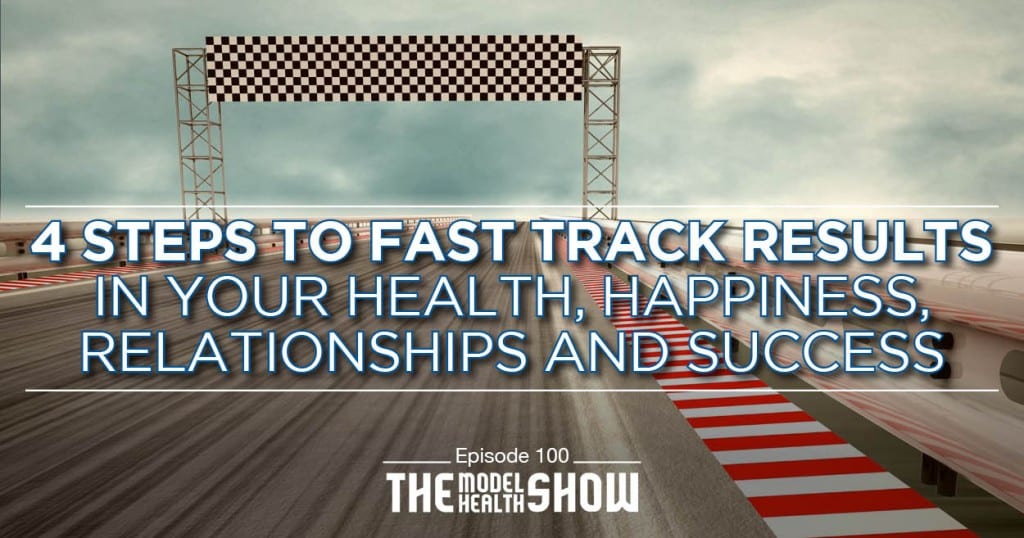 TMHS 100: 4 Steps to Fast Track Results in You Health, Happiness Relationships & Success
Wisdom comes when knowledge meets real world application.
To have the results you want in your life, in any area, we have to step out of our boundaries and put what we "know" into action.
You don't want to be the person who always says, "I know that already" or "I know what to do" but you aren't actually doing it.
If you go through life chronically accumulating data, and always waiting for the perfect moment to do something, you become the equivalent of a human filing cabinet.
The perfect time is RIGHT NOW!
You have everything inside of you to take you to the next level and beyond, it's just a matter of having the right strategy for instant breakthroughs, and this is what today's episode is all about.
It's also our 100th episode!
So, to celebrate with us, I ask that you share this on Facebook, Twitter, or email it to someone you care about today to give them an extra boost on achieving the life they deserve as well. Let's go!
In this episode you'll discover:
Why it's important to "stand on the shoulders of giants."
How our lives are just like a movie.
What "allowing" has to do with people influencing our lives (this is important!)
4 critical steps to taking control of your life.
One of the most disempowering actions most people take everyday (stop doing this and you'll have so much opportunity in your life!)
How a decision I made in high school almost destroyed my life.
The 3 things that taking responsibility for your circumstances can do in your life.
How asking the right questions can help you to have quick breakthroughs.
What you can learn from a man who went from being homeless to being a billionaire.
What quantum theory has to do with your success in life.
How your thoughts are scientifically proven to affect the world around you.
The only diet that you should ever be on (this may surprise you!)
The #1 way to gain confidence in your skills and talents.
How to quickly overcome the fear of presenting in front of people.
Why many people unconsciously reject their own value and self-worth.
A simple exercise to find out what your biggest talents are.
Items mentioned in this episode include:
Onnit.com/Model <== Get your optimal health & performance supplements at 10% off!
How To Find Fulfillment And Purpose In Your Life
Get the Free Checklist: "5 Keys That Could Radically Improve Your Energy Levels and Quality of Life"
HEALTHY MEALS EVERYONE WILL LOVE
The Greatest Gift You Can Give Your Family is Health
When you gather your family around the table to share nutritious food, you're not only spending quality time with them - you're setting them up for success in all areas of their lives.
The Eat Smarter Family Cookbook is filled with 100 delicious recipes, plus the latest science to support the mental, physical and social health of your loved ones.