↑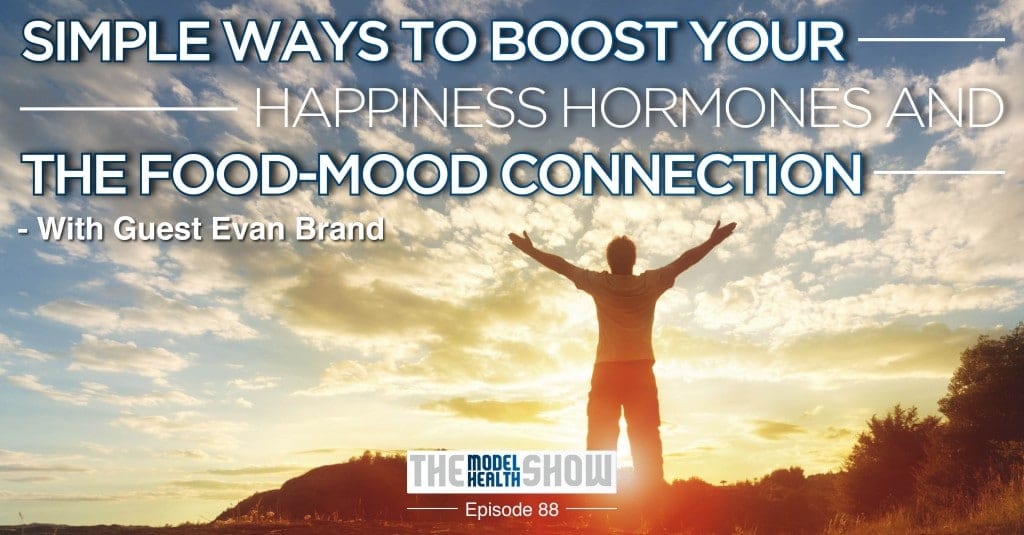 TMHS 88: Simple Ways to Boost Your Happiness Hormones & The Food-Mood Connection with Evan Brand
There's a wonderful old quote that says, "Don't put the key to your happiness in someone else's pocket." It's one of the grave mistakes we make as human beings to believe that it's up to someone else to make us happy – or that someone else even can for that matter.
Our significant others, friends, and family members don't have some magical pixy dust that they sprinkle on us to make us feel some type of way. How we truly feel, how we experience the emotions of happiness, are due to our own biochemistry, and our own perception of reality.
You see, when you feel good, that's you, your brain, and endocrine system releasing hormones and neurotransmitters that make you feel that way. No pixy dust. These are chemicals that YOU produced.
Not to negate that our loved ones and the world around us can influence how we feel. It's absolutely true that they can. But, it's because we allow them to. It's your own innate perception that decides whether or not the people/conditions in your life will make you happy or otherwise. Your happiness, is, and always will be, depended on your perception.
You can literally program your mind to think that every time it rains it's a joyous occasion. It's cause for celebration! Many ancient cultures have seen it that way. However, most of us unknowingly built a belief that the rain is slightly depressing, a hinderance, or even something we'd rather avoid all together.
The truth is, there are no flowers without the rain. So, we can choose to see the good that the rain brings and instantly up our levels of happiness. Or, we can decide that the rain is a problem and your biochemistry will respond accordingly.
Is it really that simple to experience more happiness by changing our perception? Well, yes and no.
Most of our core beliefs are very hardwired into our nervous system and endocrine system. Your brain doesn't want you to "decide" how you feel about every-little-thing that shows up in your life. It wants to put as many things as it can on automatic so that it can free up space for something new. Your brain is always hungry to grow.
This said, to change some of our more deeply ingrained beliefs, it takes practice, repetition, and/or a very emotionally charged event. These things help to create a new neuropathway, and weaken the old neuropathway that had become our default. This can take some work, but it simply starts with the awareness that you CAN change, that you CAN be happy, and that you CAN have more influence over your happiness if you make the decision to.
There are several things that you can do to immediately shift how your brain is operating and boost your happiness hormones. Today we have special guest, Evan Brand, on to help us understand how this all works and to provide us with some great strategies for feeling more joy and happiness in our lives right away.
We are also covering the food-mood connection, and how diet plays into this whole equation. So tune in, get focused, and let's have some fun!
In this episode you'll discover:
What a diagnosis of IBS really means and why conventional treatments often fail.
Why the standard pre-game food for athletes needs to be changed.
One of the major ways that your diet can affect your mood.
How your attitude, stress, and mood inherently impact your food choices.
How sharp increases in blood sugar lead to eating MORE sugar.
What your overall "stress load" is and why it's important.
Why having a great body will be unfulfilling without this secret ingredient.
How human contact and intimacy can instantly boost your happiness hormones.
Why humans have a limited ability to see energy and how that affects our interactions.
What your "life wheel" is and how it can help identify imbalances in your life.
How stress can actually be beneficial to you.
Simple practices you can use to reframe stress and make it positive.
What shinrin-yoku is and how it can transform your health.
A cool trick to add beneficial essential oils into your family's daily life (thanks Jade!)
How to super-charge your nervous system so that stress never breaks you down.
Items mentioned in this episode include:
Get the Free Checklist: "5 Keys That Could Radically Improve Your Energy Levels and Quality of Life"
WANT TO MAKE A BIGGER IMPACT ON THE WORLD?
Take Your Passion For Health And Wellness And Turn It Into A Lucrative Career.
Helping others to transform their health is one of the most rewarding things you can do. No matter what level you're at, or where you are on your own health journey, there are countless people who can benefit from your support! Here you'll learn from the very best instructors in the world in health AND in business to create a fun, thriving career and live life on your terms.