↑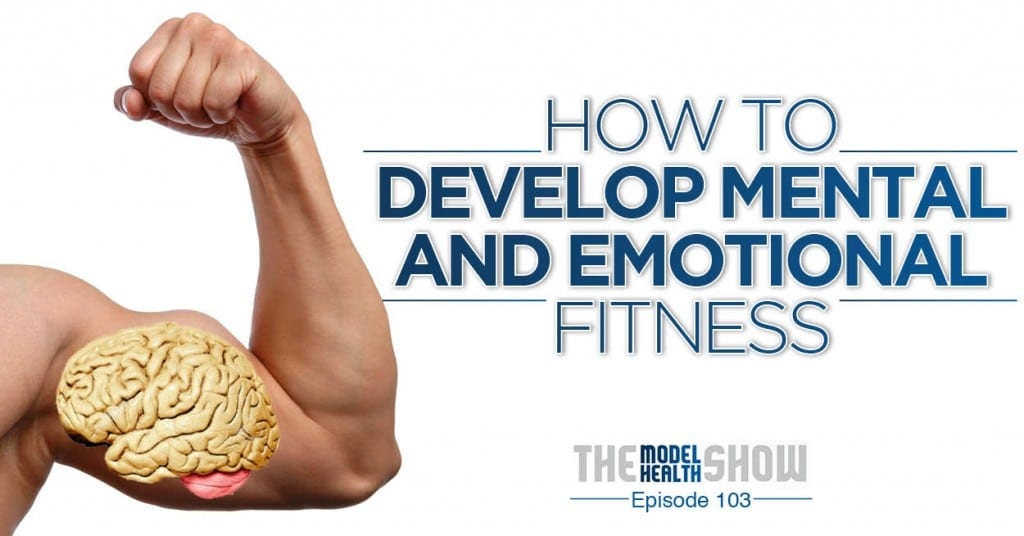 TMHS 103: How To Develop Mental And Emotional Fitness
The formula for fitness is pretty simple:
Eat good food + Get plenty of movement + Sleep like you're getting paid for it = The body and health you desire
Of course, there can be some more variables thrown in the mix, like hormones and environmental toxicity, but for the most part it's as simple as this.
Being that it's so simple, why is it that so many people are struggling to have the body and health that they want? It's not complicated to have what we want at first glance… but what makes it complicated is something far more mighty than the power of food or exercise.
What trumps everything is the power of your mind.
It's the inner game that determines your outer game. It's your mental and emotional fitness that truly determines your outer health and fitness. This is where the real shifts need to happen. And that's what today's show is all about.
If we're going to live a great life, then we can't just stop at the acquisition of a great body. What about phenomenal relationships? What about a satisfying career? What about abundant finances and resources to do the things you want in your life?
All of this matters. And all of this is a result of developing the real mental and emotional fitness to make it happen. You can have, do and be practically anything you want. It starts right now by using these strategies to live the life you truly deserve!
In this episode you'll discover:
Why the formula for having great health is simple, yet most people can't do it.
Why the negative voice in your head can actually teach you a lot.
How simply moving forward can create huge momentum for you.
Why doing things beyond the edge of your capability is so transformative.
How looking back on your life can be extremely beneficial OR extremely depressing.
How to instantly shift the perception about your past and make it more valuable.
How to get decades of experience in just a matter of days.
What some of the most successful people in the world do that others are afraid of.
What surprising thing our brains do automatically when we're talking with other people (this is incredible!)
How cells found in the human heart can tell us a lot about our emotional wellness.
Items mentioned in this episode include:
Thank you so much for checking out this episode of The Model Health Show. If you haven't done so already, please take a minute and leave a quick rating and review of the show on Apple Podcast by clicking on the link below. It will help us to keep delivering life-changing information for you every week!
Get the Free Checklist: "5 Keys That Could Radically Improve Your Energy Levels and Quality of Life"
WANT TO MAKE A BIGGER IMPACT ON THE WORLD?
Take Your Passion For Health And Wellness And Turn It Into A Lucrative Career.
Helping others to transform their health is one of the most rewarding things you can do. No matter what level you're at, or where you are on your own health journey, there are countless people who can benefit from your support! Here you'll learn from the very best instructors in the world in health AND in business to create a fun, thriving career and live life on your terms.