↑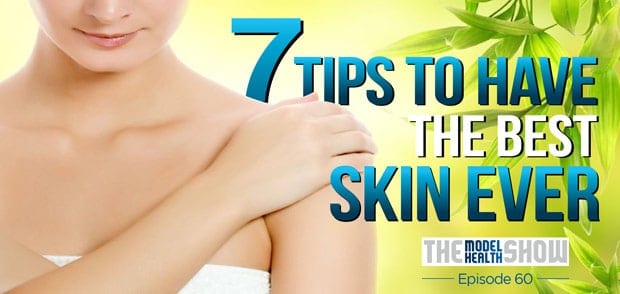 TMHS 060: Improve Your Skin Naturally, Clear Up Acne, And 7 Tips To Have The Best Skin Ever!
Have you ever heard the saying, "First impressions last a lifetime"? Whether it's true or not, we make snap judgements about people upon meeting them for the first time. It's built into us as an evolutionary advantage to be critical, recognize patterns, and to observe the health and safety of those around us.
Whether consciously or unconsciously, we are judging and being judged with each and every person that we meet. And the very first thing that people see when in close contact with us is the health (or lack thereof) of our skin.
Our skin is a symbol of vitality. It is the outermost representation of what's going on with our overall health. On the surface level we want clear, radiant skin to be more attractive to the world around us. On a deeper level our skin can be an indicator of potential (or even chronic) health problems. Our skin isn't just something superficial to look at, it's one of of best resources for monitoring our internal health and well-being.
Today you're going to learn about your skin in an intimate and fun way. You're going to learn things about your skin that you've never heard before, and you're going to appreciate and care for your skin in a whole new way because of it. It's time to love the skin you're in and take action to have the best skin health possible. The compliments you get will be nice, but the overall vitality you get will be even nicer.
What your skin can indicate about your health.
Why we unconsciously make judgements about someone's appearance.
What your skin is actually responsible for (what your skin does will surprise you!)
How your skin develops.
Why stress impacts your skin health.
Why we have different layers of skin.
What role your skin has in detoxification.
How your skin interacts with sunlight and other light sources.
What internal organs are responsible for your skin's appearance (must know info!)
What our 4 major eliminatory organs are.
How your brain impacts the function of your skin.
7 tips to have the best skin ever!
An amazing skin transformation story from eliminating ONE irritating food.
What glycation is and why you do NOT want this happening with your skin.
Why dairy products are so addictive.
Why you need to be careful about "natural" sweeteners if you have skin problems.
How wheat can damage your skin, waistline, and immune system.
Why skin care products and soaps can be the cause of your skin problems.
Why dietary fats are so important for your skin's health.
How to ensure you're getting enough water to hydrate your skin.
How to get a foot makeover (funny, but true).
What food products lead to wrinkles and liver spots.
The secret to using olive oil to improve your skin health.
Why skin brushing really does work to improve your skin naturally.
What important sun safety tips you need to know for your skin.
Where to find the healthy skin foods (the best of the best!)
What causes oily skin (and what to do about it).
The #1 cause of cellulite (this is far beyond the outer appearance).
How to eliminate cellulite naturally.
Items mentioned in this episode include:
Get the Free Checklist: "5 Keys That Could Radically Improve Your Energy Levels and Quality of Life"
WANT TO MAKE A BIGGER IMPACT ON THE WORLD?
Take Your Passion For Health And Wellness And Turn It Into A Lucrative Career.
Helping others to transform their health is one of the most rewarding things you can do. No matter what level you're at, or where you are on your own health journey, there are countless people who can benefit from your support! Here you'll learn from the very best instructors in the world in health AND in business to create a fun, thriving career and live life on your terms.