↑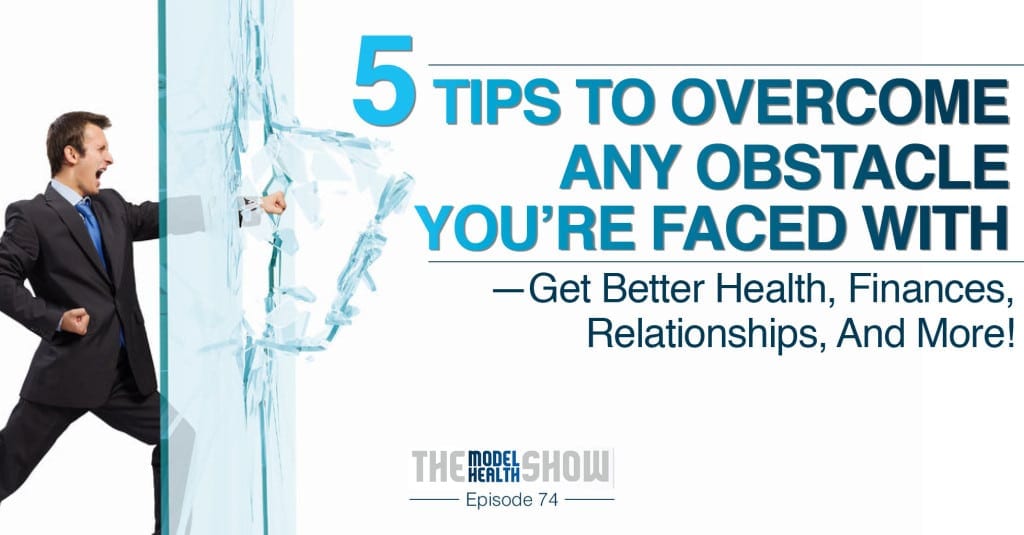 TMHS 74: 5 Tips to Overcome any Obstacle You're Faced With – Get Better Health, Finances, Relationships and More
True wisdom is learning to become friendly with obstacles. Challenges, problems, and unexpected obstacles are all inherent in the development of a human being.
We can choose to tussle with them a bit, complain about them constantly, or we can find a way to break through them. Consistently looking for the challenge, and knowing that you have everything you need within you to overcome it, is part of long-term happiness and fulfillment.
The reality is that many people retreat when they are faced with challenges they think are beyond them. Tail between the legs, white flag; the whole nine yards to show they have given up. We have to come to a conclusion at some point that the challenges in our lives aren't there to break us, they are actually there to develop us in ways that we never knew were possible before.
You have gifts, talents, capacities, skills, ideas, and so much more that are dormant within you unless you have the right stimulus to bring them out. Why come up with an idea to improve the quality of your life if everything is all comfy and cozy? That idea wouldn't be needed… It needs a spark. And that spark usually shows up dressed in obstacle pants. Hey, do these new obstacle pants make me look fat?
Don't answer that…
On today's show you're going to get a high-powered degree on overcoming obstacles and challenges that show up in your life. With what you learn today, you'll be better prepared to create unstoppable health, abundant finances, and powerful relationships for many years to come.
In this episode you'll discover:
What the "invisible barrier" is and how it can block our progress.
Why chewing your food is so important to digestion (even liquids!)
What 6 missing resources we often attribute to our failures.
Six powerful stories that demonstrate the do's and don'ts of overcoming obstacles in life.
Why creativity is crucial to solving most problems.
How resourcefulness can be used in place of resources to achieve your goals.
Why we need to learn to put ourselves first (and why it's the least selfish thing you can do!)
What learned helplessness is and how to break out of it.
Why humans are actually hard-wired to look for problems.
How knowing "why" something works can anchor it into your life.
The 2 ways that we can condition our brains to make lasting change.
5 tips to overcome any obstacle you're faced with.
What habits actually are (this is powerful!)
What a huge recent challenge meant to me (and why we get to choose our meaning.)
What you can do to center yourself and get back on track.
How to use accountability to breakthrough obstacles.
Items mentioned in this episode include:
Get the Free Checklist: "5 Keys That Could Radically Improve Your Energy Levels and Quality of Life"
WANT TO MAKE A BIGGER IMPACT ON THE WORLD?
Take Your Passion For Health And Wellness And Turn It Into A Lucrative Career.
Helping others to transform their health is one of the most rewarding things you can do. No matter what level you're at, or where you are on your own health journey, there are countless people who can benefit from your support! Here you'll learn from the very best instructors in the world in health AND in business to create a fun, thriving career and live life on your terms.