↑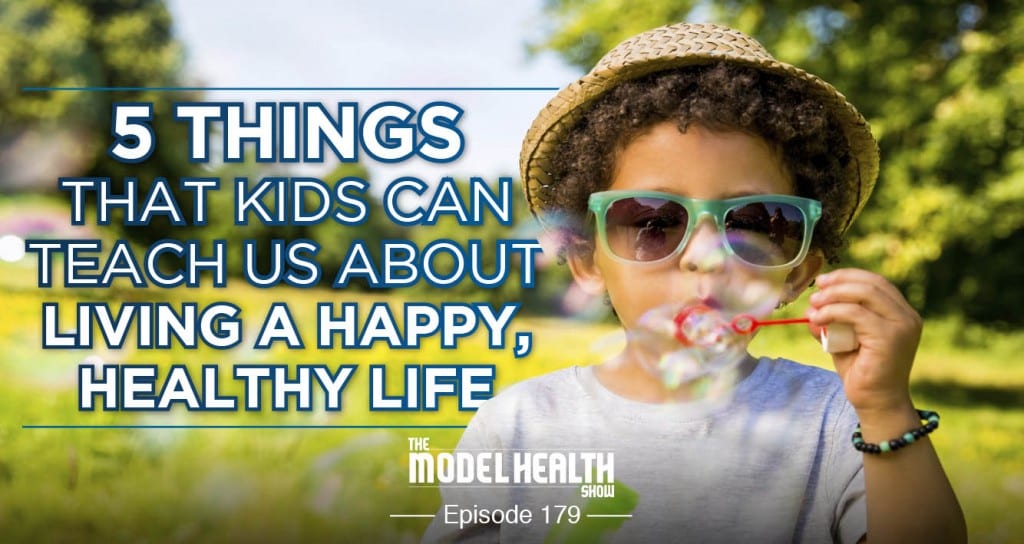 TMHS 179: 5 Things Kids Can Teach Us About Living A Happy, Healthy Life
The secrets to health and happiness can sometimes be found in the most unexpected places.
When we are children we are endowed with a mastery for joy and health that we can lose track of as the years roll on. Our search for a return to health and happiness can consume us. But because we are so preoccupied with looking into the future, we often forget to take a second and look down at the little heroes who are passionately showing us the way.
In today's special episode you'll discover the 5 specific things that kids can teach us about living a happy, healthy life. Many of the things you'll learn are backed by surprising and powerful clinical research. Yet, you don't need a study to tell you just how good it feels to put these timeless, brilliant activities into play for yourself.
In this episode you'll discover:
How playing impacts your genetic expression.
Why our mindset around play shifts as we get older.
The surprising ways that play impacts your brain health.
How to incorporate more play into your life.
Why all of your emotions are valuable.
What we need to learn from kids about emotional wellness.
Why imagination is critical to success.
How your imagination and memory are intimately connected.
How your imagination can help you reframe and heal from past experiences.
Why you need to take more control over imagineering your life.
Which powerful supplement is being studied for its neuroprotective effects.
How a childlike curiosity can benefit us as adults.
What children can teach us about achieving our goals.
Items mentioned in this episode include:
Thank you so much for checking out this episode of The Model Health Show. If you haven't done so already, please take a minute and leave a quick rating and review of the show on Apple Podcast by clicking on the link below. It will help us to keep delivering life-changing information for you every week!
Get the Free Checklist: "5 Keys That Could Radically Improve Your Energy Levels and Quality of Life"
HEALTHY MEALS EVERYONE WILL LOVE
The Greatest Gift You Can Give Your Family is Health
When you gather your family around the table to share nutritious food, you're not only spending quality time with them - you're setting them up for success in all areas of their lives.
The Eat Smarter Family Cookbook is filled with 100 delicious recipes, plus the latest science to support the mental, physical and social health of your loved ones.