Obviously salads are a wonderful thing to have in your nutritional strategy, but most people are unaware that the salad dressings they are using COMPLETELY NEGATE the benefits of the salad, and make their body store fat like crazy!
The bottled "Ranch" and "Caesar" dressings out there are far from good for your health.  You'll often notice that they're made with things like soybean oil and sugar, which are two ingredients that can totally screw up your metabolism. Soybean oil is commonly known as "vegetable oil," but it's not even a vegetable at all!  This is an oxidized, unstable oil that will clog your arteries faster than you can say false advertising.
One of the most powerful things you can do for your health is learning how to make your own delicious, fresh salad dressings.  The varieties are endless, and it always gives you the edge when you know where your ingredients are actually coming from.
You can make a big batch and keep it in your fridge for 7 to 10 days.  Salad dressings are not supposed to stay fresh forever if they're made from real ingredients… So how in the world are those dressings sitting on store shelves for months on end?!
Well this recipe is here to get you started in a good way.  It tastes AMAZING and loaded with beauty foods that will have you feeling golden in no time.  Here's the recipe:
Recipe & Preparation Tip
*1 Cup Virgin Olive Oil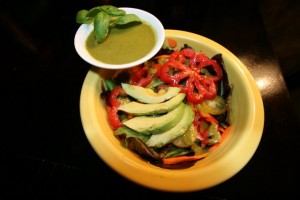 *1 Cup Apple Cider Vinegar
*1 1/2 Cups Fresh Basil
*2 Tbsp Dried Oregano
*2 Cloves of Garlic
*1/4 Cup Diced Red Onion
*3/4 Tbsp Sea Salt
*1 Tbsp Ground Mustard Seed
*1/4 Tsp Ground Black Pepper
Add all ingredients to your high speed blender and blend until smooth.
Chef Tip:  Add half of the olive oil and Apple Cider Vinegar with the rest of the ingredients to your blender FIRST, blend until smooth, then add the remaining oil and vinegar and blend again.
This dressing serves 4 people heartily with a large salad.
Have you ever made your own salad dressing before? Leave me a comment below and let me know what kind you made.