Today is a big day in getting the leverage that you need for having the fit, well-defined midsection that so many people are chasing after like the Holy Grail.  It's true that having an attractive set of abs or a beautiful flat tummy is a great thing in the self-confidence department, but the rewards that it pays in being able to truly enjoy your body; to be strong, fit, and active in your life is really where these incredible tips are going to payoff.
You've heard the wise old adage, "You are what you eat".  Well here are 4 CERTIFIED Flat belly foods that are going to give you the edge in having the well-defined core that you've always wanted to have.
#1 Coconut Oil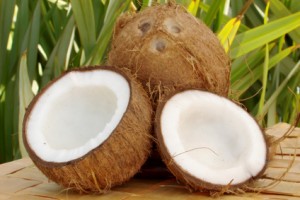 This food is an ULTIMATE fat blasting superfood.  Coconut oil is rich in a rare medium-chain essential fatty acid known as lauric acid, which directly nourishes your thyroid gland (your metabolic powerhouse).  Coconut oil provides EFA's (Essential Fatty Acids) that serve as the building blocks of your hormones.  And if you are wanting to burn more fat and sculpt the shape of your body, then your hormones are the key players in making that transaction take place.
Unlike longer-chain saturated fats found in meat and dairy products that people tend to think of (containing 18-carbon long-chain fatty acids), coconut oil contains an 8, 10, or 12 carbon chain that are metabolized RADICALLY different than other fats.  It's really counterintuitive to the common mindset about health and fitness, that it takes fat to burn fat. But it's one of those things that so many people miss the ball on, and you can see this very clearly in the growing waist line of our popular culture.
A tremendous portion of the medium-chain fats found in coconut oil are broken down by your saliva, then they are shipped off to your liver via the portal vein once they arrive in your upper intestine.  From there many of these highly usable fatty acids become INSTANT ENERGY, that are usable by the mitochondria of your cells.  The net result is you have more energy and stamina to exercise and have fun, and you are storing far less fat than you would have if you were eating other foods.  (An insider tip is that coconut oil actually helps you burn the energy from other foods better too!)
To get the benefits of coconut oil, switch over and start using it for your cooking purposes, add a tablespoon to your shakes or salad dressings, and the best way is to take a tablespoon straight, twice a day in between meals with a pinch of celtic salt.  Chew is up really well, and this is a POTENT thyroid tonic.
#2 Aloe Vera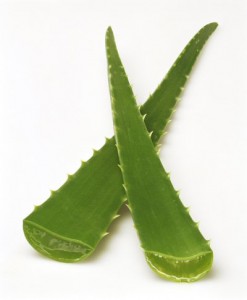 Aloe Vera is scientifically proven to assist your body in losing excess weight AND build muscle at the same time.  There are so few foods on the planet that are documented to do that… This is a corner stone of any true flat-belly program.
Aloe Vera is highly regarded for it's incredible concentration of long-chain sugars, which are known as polysaccharides.  These "miracle sugars" are actually deeply involved in how all of your cells communicate with each other.  Polysaccharides function like a time-release of energy in your body.  These are highly intelligent and stable molecules, providing your body with sustained energy and healing power over a long period of time.  This is why aloe is known as such a powerful healing resource in topical applications.  The long-chain sugars are highly resistant to oxidation, and IMMEDIATELY go to work healing the body, and continue to do so over extended periods… Anyone who has seen what aloe vera can do knows this very well.
Used as a nutrient dense superfood, aloe vera's impact on your overall health is even more impressive.  Aloe is rich in bioavailable sulfur, which increases your flexibility and helps to build new, and better tissues.  It's also rich in chromium, enzymes, and amino acids which help you to burn more fat, especially around the midsection.  The antioxidant properties of aloe vera alone make it a valuable commodity that helps to dramatically reduce the affects of stress and oxidation that lead to accelerated aging.
Check out one of my Model Kitchen videos to see how to fillet fresh aloe vera and add it to your shakes, salad dressings, or blended soups.  Aloe vera juice, from a reputable company can be beneficial too, but there's nothing like the real thing!
#3 Chlorella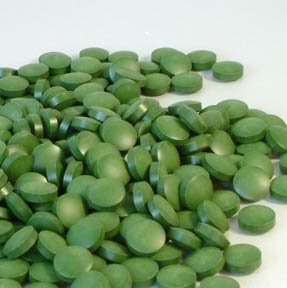 Chlorella is one of the most potent superfoods in the world for delivering you NOTICEABLE advances in your body, your energy, and your endurance.  Chlorella gets its name from its incredible concentration of chlorophyll.  It's actually discovered to be the richest source of chlorophyll of any other edible food source.  Chlorophyll is a certified blood builder that helps to remove excess fat, toxins, and other nefarious substances from your body.
Where chlorella really sets itself apart as a powerful fat burning and anti-aging superfood is what's known as Chlorella Growth Factor (CGF).  Chlorella Growth Factor is rich in DNA and RNA (nucleic acids) which are clinically shown to protect collagen and elastin fibers.  This property found in CGF is unique and powerful in enhancing the quality and appearance of the muscle cells in your body.
Chlorella is literally a nutritional powerhouse, providing about 60% pure digestible protein!  Compare that with beef, which is about 25%, and soy which is about 8%, it's really incomparable how beneficial chlorella can be for building a toned, lean, healthy body.  Chlorella provides a clean source of protein, a with the alkaline minerals that it provides, can radically improve your ability to burn fat over longer periods of time, and help to keep your body in balance.
You can add chlorella powder to your shakes and juices (Be sure that you get it from a reputable source to make sure that it's complete in it's bioavailable nutrient profile [check www.TheShawnStevensonModel.com/store Superfood section for the top recommended sources]).  You can also get really great chlorella whole food tablets.  Again, make sure that they are 100% chlorella, with no fillers, so that you get all of the great nutrition from this incredible fat burning superfood.
#4 Hemp Seeds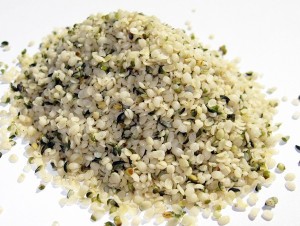 Hemp seeds contain all of the essential amino acids and essential fatty acids to maintain excellent health for the human body.  Hemp seeds are are remarkable protein source, providing approximately 35% pure digestible protein.
In it's raw state, the protein found in hemp seeds contain about 65% globular edistin, which is considered to be the most digestible and beneficial protein for the human body.  This is a HUGE resource to add to your regimen.  The protein found in hemp seeds are useful for building muscle, balancing blood sugar, increasing strength and endurance, and improving neurological health.
The EFA's (Essential Fatty Acids) found in hemp seeds are potent antioxidants that help to reduce inflammation and aid in recovery from your workouts.  These EFA's enhance your body's ability to burn more belly fat by assisting in building vital hormones and removing toxins safely from your body.  Hemp seeds are also rich is sulfur, zinc, phosphorus, chromium, and magnesium, which are all potent in burning fat and aiding in rejuvenation of your body.
Add 3 to 4 tablespoons of hemps seeds and/ or hemp seed oil into your daily regimen to get some great benefits.  Add some to your shakes, oatmeal, salads, entrees, and more.  This is an easy food to add-in and it provides true world-class nutrition.
Leave a comment below and share your experience with any of these amazing superfoods.  Or if you're planning on trying a new one after reading this, I'd love to hear about that too!