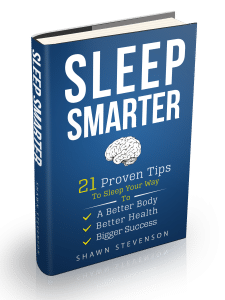 For over 12 years I've been researching, experimenting with, and sharing the most effective health and fitness information I could find.
Today is a very special day because I get to share what I've discovered about a topic that hasn't been given it's rightful respect until today. That topic is sleep!
Sleep Smarter Week is a worldwide event that I'm truly honored we get to share together. I actually got the idea to create Sleep Smarter Week from a friend of mine, Pat Flynn.
Basically, I got from him that if this is important, and it's going to help the lives of a lot of people, then make it a celebration!
The research I discovered on optimizing sleep was just too good not to share. Here are just a few of the things you'll find inside the pages of my new book Sleep Smarter:
Why you need to sleep more and exercise less to get the best fitness results.
How the clothes you wear to bed can depress your hormone function.
Why sleep is the missing ingredient in long-term fat loss (clinically proven!)
How to feel more energized and refreshed on less hours of sleep.
Why poor sleep quality depresses brain function (and leads to poor performance).
What supplements are safe and helpful, and which ones to avoid (this will shock you!)
Why going to bed at the right time is more important than how many hours you sleep.
What mineral deficiency can cause severe sleep problems (and how to fix it).
Life-changing tips for fat loss that will literally help you lose weight while you sleep.
How to calm your mind so that you can fall asleep faster.
I'm so excited about the impact that this book is going to have. I made sure that the writing was fun, engaging, and provided lots of usable tips that people could implement right away.
Well, it's time to get the celebration started! I've got so many amazing things to share with you. Here's what you need to do to join in the celebration:
1) Click play and listen to this quick audio:
2) Grab your copy of Sleep Smarter: 21 Proven Tips To Sleep Your Way To A Better Body, Better Health And Bigger Success right here:
Sleep Smarter Kindle     Sleep Smarter Paperback
There are options for Kindle, as well as paperback, at very, very special low celebration prices. If you do decide to get a paperback copy, I ask that you get one on Kindle too because that would really help us to get the word out to people and hit the Bestsellers List faster! It's awesome because you don't need a Kindle to read the Kindle version. Amazon will provide you with Kindle app so that you can read it on any device you have (desktop, laptop, iPad, iPhone, etc).
3) Sign up for the free live chat with me! To honor everyone who gets a copy of Sleep Smarter this week, I'm doing a live video hangout where you'll be able to:
*Ask me any health & fitness related questions.
*Be eligible for AMAZING prizes I'm going to be giving away during the event (so excited about this!)
*Find out some bonus, game-changing sleep info that no one else gets to hear. No need to send me a copy of your receipt or screenshot. After you purchase your book(s) just click the link below to sign up. I trust you. 🙂
4) Help get the word out! The reality is, millions of people worldwide are struggling with their health. Our friends, family, and communities need real, honest information to help make a shift in their lives.
This book is going to provide countless people with the weight loss, health, performance, and sleep optimization info that will positively impact them for many years to come. I'd love for you to help transform the lives of more people. Here's what you can do:
#1 Leave a review – The #1 (easiest) thing you can do to help spread the message of Sleep Smarter is to leave an honest review of the book on Amazon. Simply follow these 4 easy steps to leave a review if you've never done it before (it's super easy, but means a lot!)
#2 Share Sleep Smarter with your friends and family by clicking here:
#3 Help people more directly by taking advantage of any of the bonuses below:
The Bonuses
Buy 1 Book
You'll get the most comprehensive and entertaining book in the world on improving your sleep for better brain function (memory, focus), better fat loss, faster fitness results, improved sexual health, protection against chronic disease, and so much more. This book will improve your quality of life for many years to come.
Buy 3 Books
You'll receive a Free copy of The Key To Quantum Health (Value $29). Receive a print or digital copy of my first book focused on mindset and transforming your body through the power of food. Interested in this package? Awesome! Just buy 3 *print* books on Amazon and fill out this form: SS Bonus3
Buy 10 Books
You'll receive Free Access to my private membership site for 1-year (Value $360). This is where I do private monthly Q & A's and answer ALL of your health & fitness questions that come up along the way, plus bonus footage from live events, free recipe books and more. Just buy 10 *print* books on Amazon and fill out this form: SS Bonuses10
Buy 25 Books
Receive a Free one-on-one consultation and program design with me ($800 value) This can be done via Skype or telephone. (Limited to the first 10 people – first come first served.) Buy 25 *print books* on Amazon and fill out this form: SS Bonuses25
Buy 500 Books
Limited to the first 2 people – I will fly out and give a 90 minute keynote at the venue of your choice in the US or Canada, timing and content to be mutually agreed upon (Value $12,000). Plus you'll receive everything in the 25 book package above. Interested in this package? Don't buy the books on Amazon, we'll take care of getting them to you. Just fill out this form: Sleep Smarter500. If you're outside of the U.S. and interested in this package, still fill out the form and we may be able to accommodate this offer. First come, first served. This is going to be epic!
Thank You!
I wholeheartedly appreciate you. I mean that. None of this would matter if there weren't amazing people like you who care about being as healthy as possible, who care about being more, and who care about helping others. I honor you for truly being the example, and I thank you from the bottom of my heart!
Get your copies of Sleep Smarter now!